The use of robots for handling materials in environments like warehouses has become an effective way to improve efficiency, reduce workplace accidents and offset growing worker shortages. And now they could do the same for hospitals and other healthcare settings.
While not the only culprit, the COVID-19 pandemic created significant disruptions to the healthcare industry and only worsened the existing U.S. nursing shortage. During the pandemic, 18% of healthcare workers quit their jobs, and, between now and 2030, more than 1 million nurses could leave the workforce. These continued losses add up to further stresses and demands on an already-taxed hospital workforce and affect the care — and confidence — of patients.
This shortage comes at a time when more workers are needed to meet the demand created by the growth of the over-65 population, which will only continue to balloon; by 2034 those over the age of 65 will outnumber the under-18 population, according to the U.S. Census Bureau.
As government policymakers and healthcare leaders alike look at how to manage the current demands and projected ongoing shortages, one of the most effective solutions for healthcare systems is the use of AMRs, or autonomous mobile robots.
Robots in Healthcare
Hospitals have already come to trust robots for performing certain tasks behind the scenes, so the idea of bringing them out in the open and integrating them into hospital workflows shouldn't seem unusual. Robotic arm technologies allowed robots to begin assisting in surgery some 40 years ago.
Today, surgical robots lead to reduced pain and shorter hospital stays for patients while allowing surgeons greater visibility and precision during procedures. Other types of robots have been used to take on related hospital tasks such as handling or delivering laundry and mail. As the capabilities of robots improve, and the need for workers increases, the benefits of robots in hospitals become even more evident.
Hospital robotic delivery systems are designed to quickly and consistently make rounds to ensure patients are receiving optimal care and that hospital operations can continue efficiently. Implementing them can solve a number of problems universal to healthcare settings and deliver solutions that are becoming increasingly difficult for a human workforce.
Let's look at some of the benefits of using robots in hospitals and the different tasks they can perform.

Use Case 1: Delivering Meals, Laundry and Medication
In addition to medical care, patients have ongoing needs that don't necessarily require a trained medical professional — or, as it turns out, a human. AMRs can reduce the workload of nurses by taking over tasks such as delivering meals, laundry and medications to patients.
Not only does this ease the workload for hospital personnel, but it also ensures better care for patients. Interruptions or medical emergencies can prevent medical staff from delivering meals and medication on schedule.
Delays in medication administration have been identified by the National Patient Safety Agency as "a significant patient safety issue" that can hinder recovery, so being able to ensure that medication is delivered and administered on time — every time — can dramatically improve patient outcomes.
Use Case 2: Delivering Specimens and Blood to Laboratories
Delivering blood or specimen samples to the hospital lab is a necessary part of healthcare operations, but it also can take a significant amount of time. And, in cases of human error, the samples may be taken to the wrong location, further delaying the process and increasing the risk of mistakes.
The use of AMRs ensures that the delivery process is expedited, but it also eliminates human error and increases the likelihood of the specimen or blood being delivered to the correct lab. The secure transport of samples via AMR is an excellent, cost-effective alternative to installing pneumatic tube and rail systems seen in larger healthcare systems while also allowing for an improvement in efficiency and accuracy. And, unlike fixed or installed systems, an AMR can be reprogrammed for changes in its route, making sure it goes exactly where it's needed.

Use Case 3: Reduce Risk of Transmission
Contagious disease transmission has always been a hazard of the medical profession, but the COVID-19 pandemic raised awareness about the need to reduce this risk in more effective ways. Thanks to AMRs, there now are ways to easily access highly infectious areas, including COVID wards, without putting healthcare workers at risk.
An AMR can enter an infectious area and transport objects without the threat of becoming contaminated or passing a virus along to humans. AMRs also can be used in central sterile supply departments (CSSD), where medical devices are cleaned, recycled, sterilized and packaged for delivery throughout the hospital, and then deliver the devices where they are needed.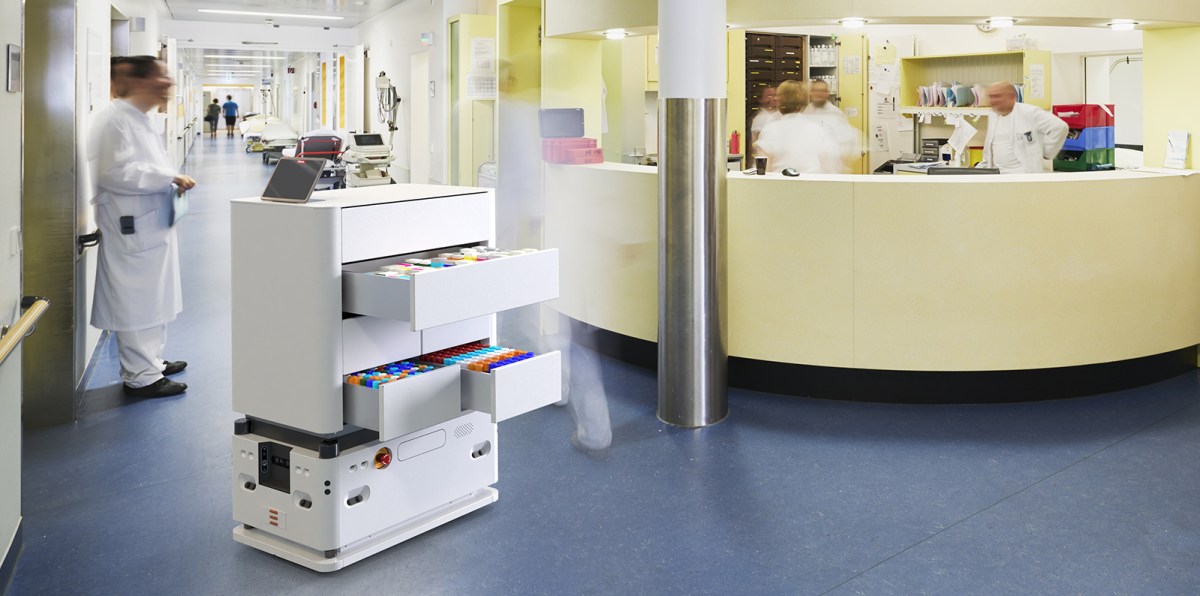 Reducing Wear and Tear on Human Workers
In addition to freeing up the valuable time of hospital workers, robots in hospitals also improve working conditions by reducing the amount of time workers spend walking to deliver meals or medications, transporting specimens to the lab or performing other repetitive tasks that could be performed just as effectively — and in most cases more quickly — by a robot.
That, of course, affects the bottom line, and according to the International Federation of Robotics, it can reduce the cost of each delivery by as much as 80%. AMRs can also cut the number of steps nurses and hospital personnel must walk each day; the IFR reports it could reduce the number of miles walked each day — by each nurse — by between three and four miles.
In addition to reducing the physical demands of logging so many steps, AMRs can reduce injuries such as back strain caused by lifting or twisting while handling materials.
Such results all have a tangible, cost-related benefit to hospitals. In addition to the quantified, documented savings robots provide, they also could help with employee retention. By providing nurses and other healthcare workers with fewer demands on their time, it's possible to let them enjoy greater job satisfaction and allow them more time to spend on patient care — which is what attracted them to the industry to begin with.
The Future of Robots in Hospitals
As applications and technology continue growing, AMRs have a promising future for becoming an integral part of hospitals and other healthcare facilities. Already, their use is improving efficiencies in a variety of environments. For example, Yujin Robots' GoCart platform is an AMR that can be adapted to use in hospitals, commercial settings and industrial environments to ensure the safe, rapid delivery of materials.
It uses Yujin's proprietary SLAM solution and intelligent navigation technology, which allows it to follow a mapped path without requiring infrastructural changes or tracks for it to operate on. SLAM uses high-end sensors to provide accurate, real-time mapping that works even in busy, dynamic environments such as hospitals. And it can also be integrated into existing systems so it can easily use things like elevators and automatic doors.
This technology also includes fast object recognition and avoidance, so there's no danger of collisions with humans or equipment that suddenly cross its path. In fact, GoCart AMRs have acquired the International Organization for Standardization's 13482 PL-d level safety for personal care robots.
As hospitals and healthcare systems continue looking for solutions to improve patient care and safety while also reducing on-the-job injuries for medical professionals, robots in hospitals offer solutions that human workers need. From lowering wear and tear on personnel to improving delivery systems for everything from medications and meals to blood and specimens, AMRs have advantages that are worth exploring to help create a healthcare system that's built for the challenges of the future but is ready to deploy today.